Diana Calvario - Dreams Butték
We believe in nature and its healing power! While we are specialized in hemp products ranging from clothing, backpacks to healing cosmetics, oils and tees , we also work with essential oils from a range of other medicinal plants as well as natural incense sticks and everything connected.
Awkaluna is the union of two artisans, Axel and Delphine, who have been creating jewellery and accessories using macramé techniques for several years. Traveling and selling our crafts in Markets, Festivals and Fairs all around the world. 
As a union, we focus on fine and quality handwork. Our priority definitely lies in taking the time to create something special! 
Starting by searching a particular quality of semi precious healing stones we find and collect traveling the world, the most concious way we can manage. 
By the powerful energy of the moonlight we cleanse and purify these stones, so they are charged  full of positive vibrations from the nature surrounding us, to bless their new owner. 
With special knotting techniques, using italian waxed and braided yarn, we weave with compassion and love for details to create unique pieces, which can follow you for as long as you let them. 
Also we bring several ethnic accessories from our travels, such as colombian sisal Kogi Bags, ayurvedic handworked copper bottles,  handwoven turkish scarfs,...
We are proud to present you our creations as well as upcoming collections.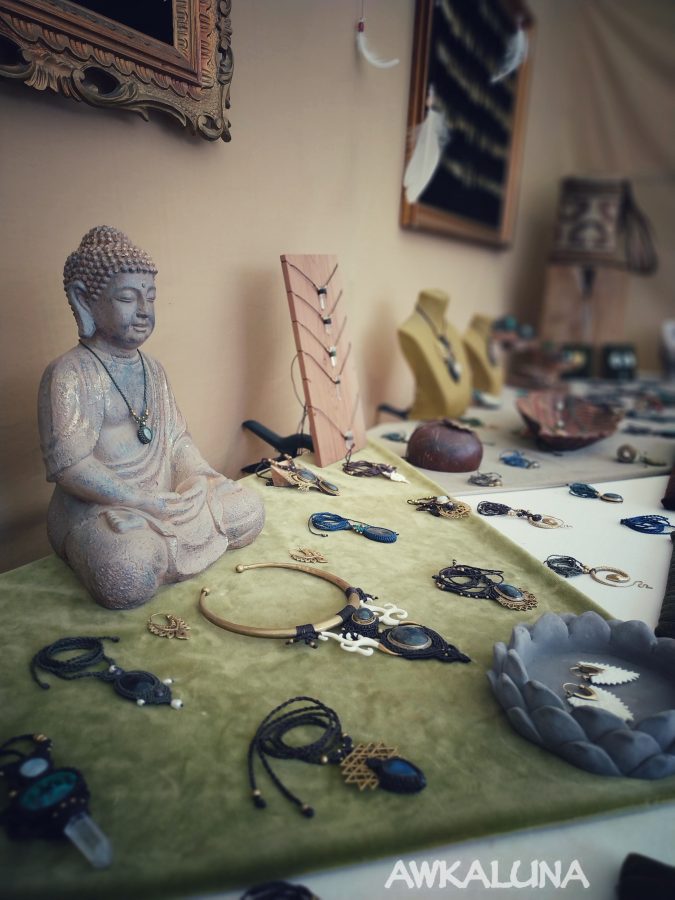 Angele Schmitz - deep relaxation massages
My TouchLife Massage technique is about mindfulness, energy flow and deep tissue relaxation... the full-body massages (or partial massages) are a combination of gentle touch and strong grips, bringing a deep, meditative relaxation and physical well-being.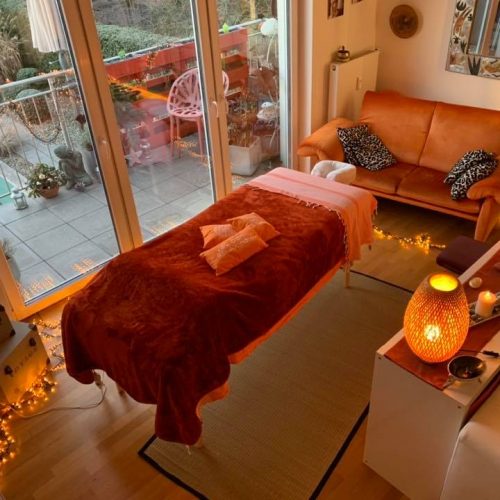 Solange Guegan - Rites & Ceremonies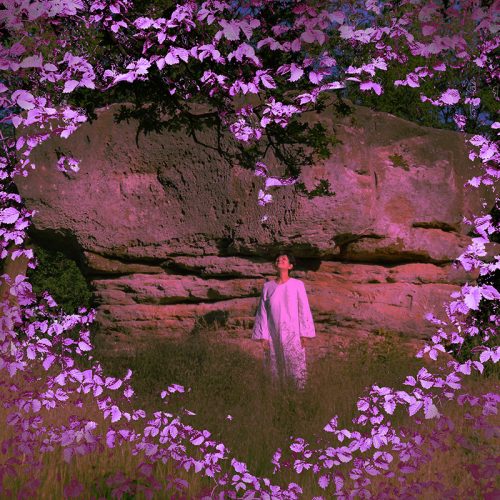 Solange officiates rites and ceremonies.
She offers you:
journey into consciousness: regressive hypnosis, lucid dreaming,
spiritual ascent
untying rite
accompaniment of life episodes: spiritual awakening, maternity,
rupture, infertility, mourning, end of life ...
celebration of the sacraments (weddings, baptisms, funerals)
celebration of Celtic festivals, solstices and equinoxes
oil anointing, memory release, purification
passage and recovery of souls
Julie Monseweyer - Ayurvedic Massages/Massages bus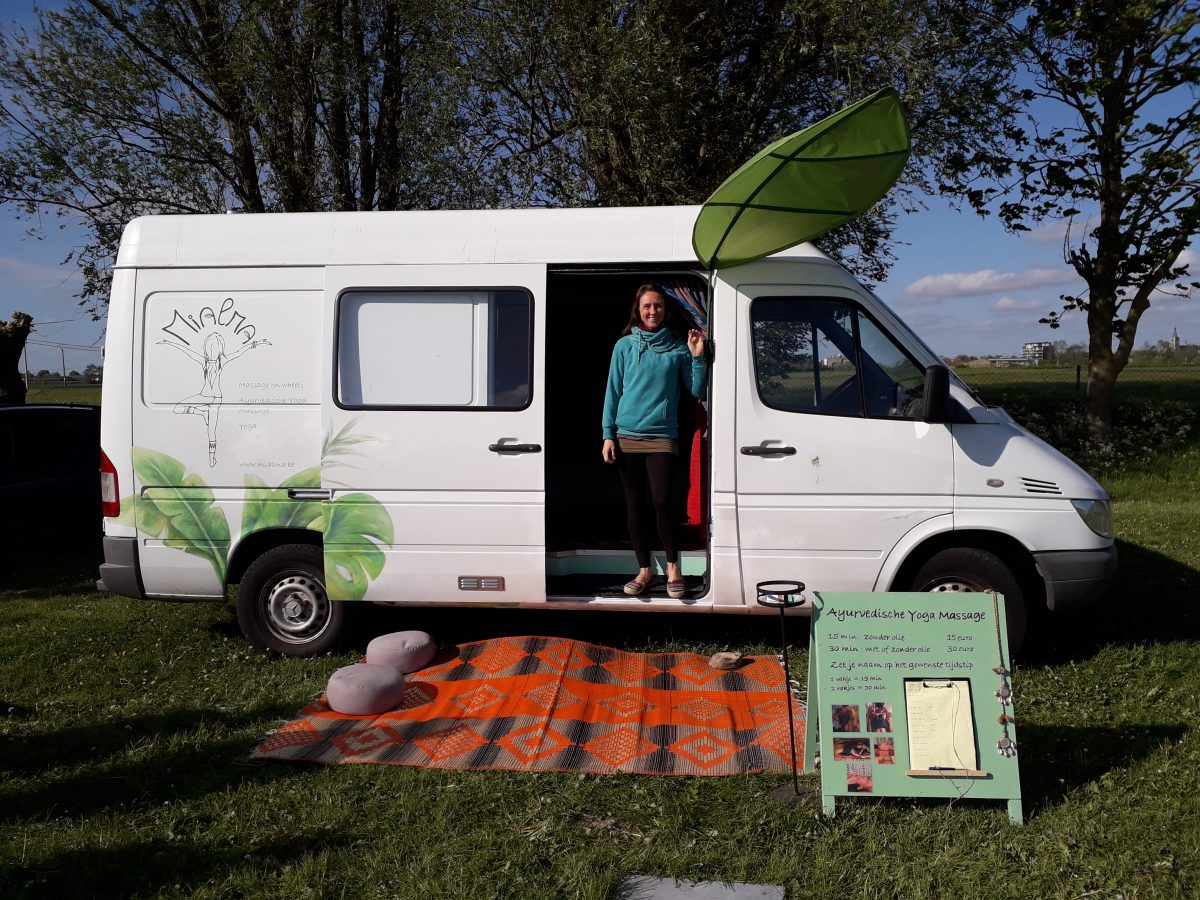 Linda - healthy breakfast, coffee & tea from Mesa
During the entire festival Linda from "Mesa - maison de la transition" will offer healthy breakfasts, coffee, tea, fresh juices and yummy cakes. Don't miss to try the carrot one 🙂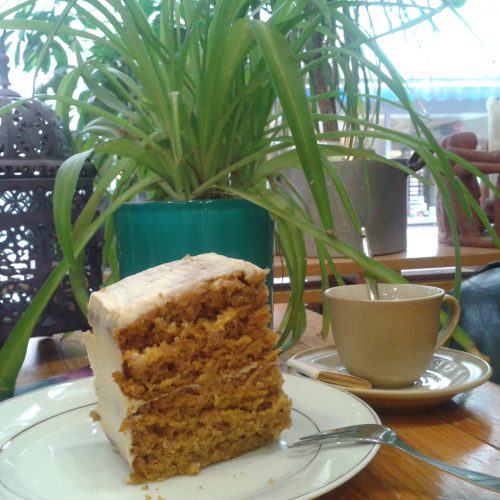 Healthy vegan & vegetarian catering
During the entire festival we will further offer healthy vegan and vegetarian food. We are happy to welcome the following caterer and food trucks:
Friday -Kohinoor
Yummy vegan and vegetarian Indian food
Saturday - OAK
Yummy vegan food: Soup & Buddha Bowl
Sunday - Atlas Express Food Truck
Coucous, Indian lentils, salads etc.
When you purchase a Kula Yoga Festival ticket you will support the following purposes:
Paying for the materials necessary to build the Kula Yoga Festival

Paying the fees of the various facilitators and artists that will be holding the space of the Practices, Experiences, Therapies, Music stage, workshops and many other surprises we are preparing to make this an unforgettable experience

Payment of the transportation costs and lodging of the international artists

Design and implementation of pre-production, production, post-production and the thousands of tasks that come with all of this.

Maintaining all the infrastructures that make yours a better experience whilst at the Kula Yoga Festival. Showers, toilets, water pipes, electrical circuits and all the complex logistics involved.
And all the bigger or smaller details in between; all this to make sure everyone has the most unforgettable experience ever!!!
Camping & Bungalowpark Fuussekaul