I was born in Valparaiso (Chile), currently living in Hortsavinya (Spain).
Psychologist, dancer, researcher of the body, movement and therapy in all its forms.
The movement and the music I find the ancestral language that all inter-connected.
Trained in contemporary dance, contact, Bach flowers moving, and moving gestalt.
Development since 2011 my own proposal in the form of workshops and creative laboratories called "Dance Life".
Since 2015 start to share music in cabarets and different sessions, initiating me into the world of Djing, an activity that has not stopped until this present moment.
Since 2016 start to investigate and facilitate Ecstatic Dance sessions. 2017/2018 this year I trained as a facilitator of Ecstatic dance with Albert Pala.
For years, when I began my connection with spirit, beginning to participate in women's circles. Five years ago path closely with Grandma Pilar, initiating me in the way of vision quest, which will complete next year. I focus circles of women, planting moon and ecstatic women for a couple of years ago. With love and for love.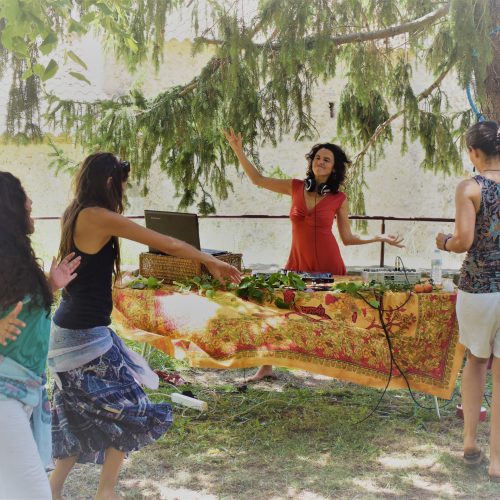 When you purchase a Kula Yoga Festival ticket you will support the following purposes:
Paying for the materials necessary to build the Kula Yoga Festival

Paying the fees of the various facilitators and artists that will be holding the space of the Practices, Experiences, Therapies, Music stage, workshops and many other surprises we are preparing to make this an unforgettable experience

Payment of the transportation costs and lodging of the international artists

Design and implementation of pre-production, production, post-production and the thousands of tasks that come with all of this.

Maintaining all the infrastructures that make yours a better experience whilst at the Kula Yoga Festival. Showers, toilets, water pipes, electrical circuits and all the complex logistics involved.
And all the bigger or smaller details in between; all this to make sure everyone has the most unforgettable experience ever!!!
Camping & Bungalowpark Fuussekaul